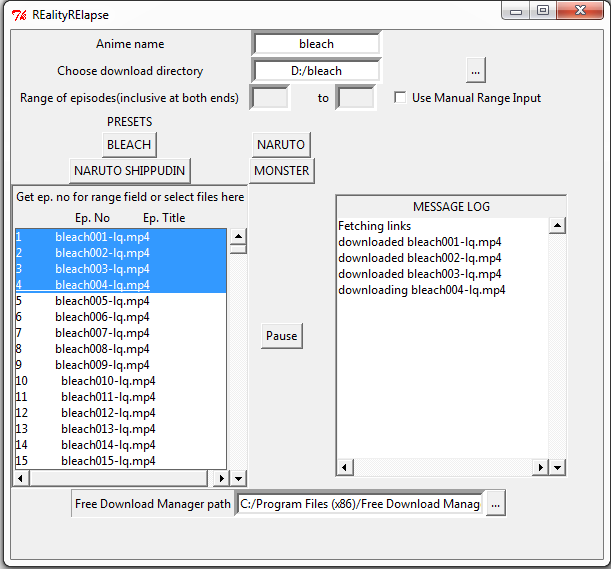 ---
This tool downloads anime episodes sequentially from www.realitylapse.com
file list:
REalityRElapsegui.pyw - Source with tkinter gui

REalityRElapse_x64.7z - windows x64 binary. Unzip and run exe

REalityRElapse_win32.7z- win32 binare. Unzip and run exe

REalityRElapse.py - Command line version

README - this file
Requirements: 1. Free Download Manager available at http://www.freedownloadmanager.org/
Usage: 1.Fill the form. Anime name should be as it appears in www.realitylapse.com use the presets for some pointers
2.set download directory and make sure that freedownload manager downloads by default to that directory. Set this via free download managers settings.
3.under advanced settings of free download manager settings new downloads tab, set partial/incomplete downloads to have either extra extension(.incmpl or something) or to have partial dloads hidden(extension method recommended )
4.Set range of downloads. only integers in these entry boxes. don't add padding 0s. Or use the list to select episodes to download. use checkbutton to switch between modes. for range, check the list of episode numbers to be entered for desired episodes. Because of realitylapse's file naming conventions and occassional double episodes, the episode numbers to be entered can vary from the episode number in the title.
Thats about it.
Note: there is very little error detection in this app. So fill the form correctly.
Final Note: realitylapse.com is a great site. But to freely download anime episodes, you cant just queue them up in a download manager. It changes the urls every ~30 mins and if you queue up say 10 episodes for download(after going through the whole repeated clicking,waiting process) you'll find that the links all expired after 3 completed downloads. This script was written to work around that very problem.
Regarding doubts about the script mail me at dodo.dodder@gmail.com